Note: Dear friends, there are many pirated pictures on the platform that imitate our counterfeit and shoddy products. Please look for the AmazeFan brand. To prevent the use of inferior products to damage the skin. At present, we have filed a complaint to the platform and will be handled in accordance with the platform's rules, please rest assured.
Product Specifications:
Brand:AmazeFan
Mode:7 Modes
Rated Power:4W
Battery Capacity:750mAh
Size:166*50*47mm
Charging Voltage:5V/1A
Charging Time : About 3 Hours
[Positive and Negative Ions] Using the Principle of Positive and Negative Ion Inter-Attraction, the Dirt in Deep Pores Is Discharged through Biological Current and Thoroughly Cleaned.Cosmetic Ingredients Penetrate into the Bottom Layer of Skin through Iontophoresis.
[Vibration] Mechanical Vibration and Voltage Stimulation Are Adopted to Tighten Human Skin, Increase Elasticity and Enhance Metabolism of Skin Cells.
[Warm] Warm Massage Promotes Absorption, Stretches Skin Texture and Makes Skin Plump.
[Three-Color Function] Red and Bright;Blue Repair Orange Light.
[7 Modes] Skin Tightening, Brighten Skin Color, Resist Wrinkles, Remove Wrinkles, Remove Face, Clean Detoxification.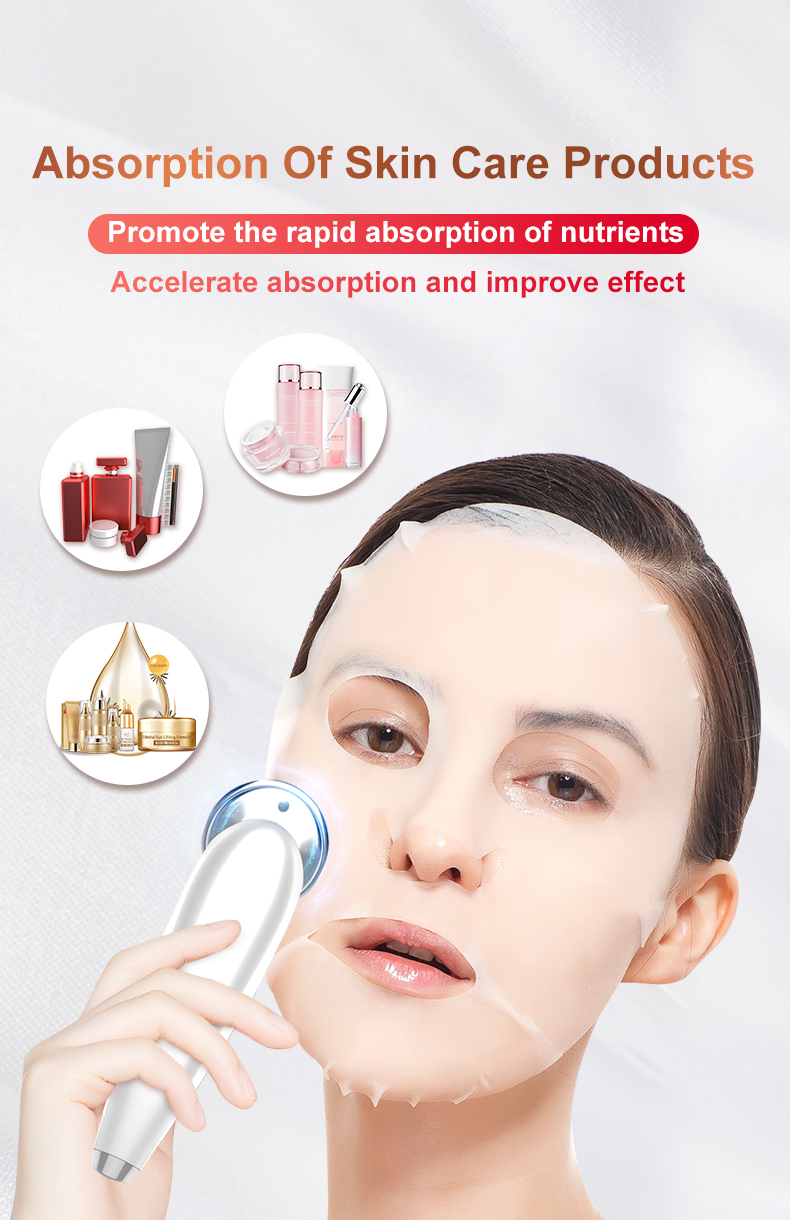 Buyer Q&A
1. Is there English on the screen?
Answer: Yes, Chinese and English subtitles are displayed on the screen.
2. Can it open pores for cleaning?
Answer: Yes, the machine has a heating function to open the pores, and high-frequency vibration with ion adsorption can completely remove deep dirt and makeup residue.
3. Will it also get cold? Only mention heating.
Answer: Yes, this product currently only has heating function, if you need to buy cooling and heating function, please contact customer service.
4What is the difference between each color of light?
Answer: The machine has 4 kinds of light, which are red light for repairing, blue light for anti-inflammatory and sterilization, orange light for brightening the skin, and color light (pink light) for whitening and reducing spots.
5. How to use?
Answer: You can first use the clean mode to remove makeup and clean the skin with cleansing products. Follow the skin care process with water cream, face cream, eye cream and other skin care products to massage and heat in the corresponding mode. The manual is in Chinese and English, and there are detailed instructions on how to use it with pictures.
When using this product, it can be used together with some essence, face cream, neck cream, and the effect is better.
Please keep using it for a while, you will find his magical power

product description:
1.The streamlined massage head is specially designed for the neck. The streamlined design conforms to the ergonomic theory and transmits energy to every inch of the neck.

2.The massage head's 45-degree warm skin rejuvenation is combined with three color sound wave modes of low, middle and high, and blue / green / red color massage. Promote blood circulation, stimulate acupuncture points on the face and neck, dredge meridians, improve circulation and promote metabolism, promote the discharge of long-standing waste toxic substances, slow down the aging of epidermal cells, reduce the appearance of neck lines, reduce puffiness, relax shoulders and necks, acupoint physical therapy, Quickly eliminate fatigue and restore physical fitness.

3.The three sonic vibration modes are: low speed (blue light) / medium speed (green light) / high speed (red light). Touch the switch to turn on, every time you press to switch the mode, in the order from low to high, long press the switch to turn off.

It has a mode memory function and a 60-second intimate reminder to easily adjust the massage time.
4.USB cable charging is safe and convenient.

5.Mini-portable, easy to use anytime, anywhere.

6.Newly introduced bionics design concept, using dolphin shape design, exquisite and novel.

Product parameters:
Name: Little Dolphin Electronic Neck Beauty Instrument
Material: ABS + PC
Product size: 120 * 83 * 50mm
Rated voltage: 5V
Rated input power: 2.5W
Battery capacity: 500mAh
Charging method: USB charging
Charging time: ~ 3 hours
Function: Lift and firm, diminish fine lines
Package Include :
1 * Little Dolphin Electronic Neck Beauty Instrument
1 * USB data cable
1 * English product manual
Note:
1. Due to manual measurement, please allow 1-3mm difference.
2. Due to the difference between the display and the light, the picture may not reflect the actual color of the item.